"This is our third time hiring Rik Roberts as our keynote speaker. Our customers just love this guy. It's a total home run."
Jeff Severs, COO Exceleron
Customer Service Keynote for Hard Working Folks
The Mayberry Method is designed to tune up your productivity and customer service soft skills. It is a perfect fit for groups who want to have fun and learn some actionable takeaways.
Small businesses, associations, corporate groups, chambers of commerce, managers, health care, banking, and software user's conferences all have benefited from the content in the Mayberry Method. In short, this program is perfect if you …
Need a program that is as valuable as it is fun.
Desire to boost engagement at your live events.
Want to provide continuing education for your employees.
What it is …
Using healthy doses of humor, today's news, and business principles, The Mayberry Method customer service keynote weaves together a program with a through-line of servant leadership and customer focus. You will put yourself in the mindset and position of both customers and leaders dealing with tough scenarios. You will learn to solve problems and build lasting customer relationships.
Why you will love it …
As an event planner, you are tasked with finding "something different" to engage your group. Yet it also needs to add value to your organization. This program checks all the boxes. And, you don't have to be a Mayberry fan to play along. Imagine the energy boost at your event when "Barney Fife" bursts into the room to arrest a few of your individuals before the learning starts.
Your attendees will laugh, think, and actually USE the information delivered in this program.  I also have multiple modules you can choose from to customize the program to your group's specific needs.
You can select any of the following topics in any combination:
Call the Man | Serving Beyond Expectations
Nip it in the Bud | Eliminating Distractions
Don't be a Goober | Time Management Strategies
Who is Your Ernest T? | Problem Solving
Keep Your Bullet In Your Pocket | Think Before you Speak
Deputizing Others | Delegating Authority
VIRTUAL SOLUTION: You can even have this keynote delivered "on-demand" in a new video series.
Learn More About the Virtual Option Here.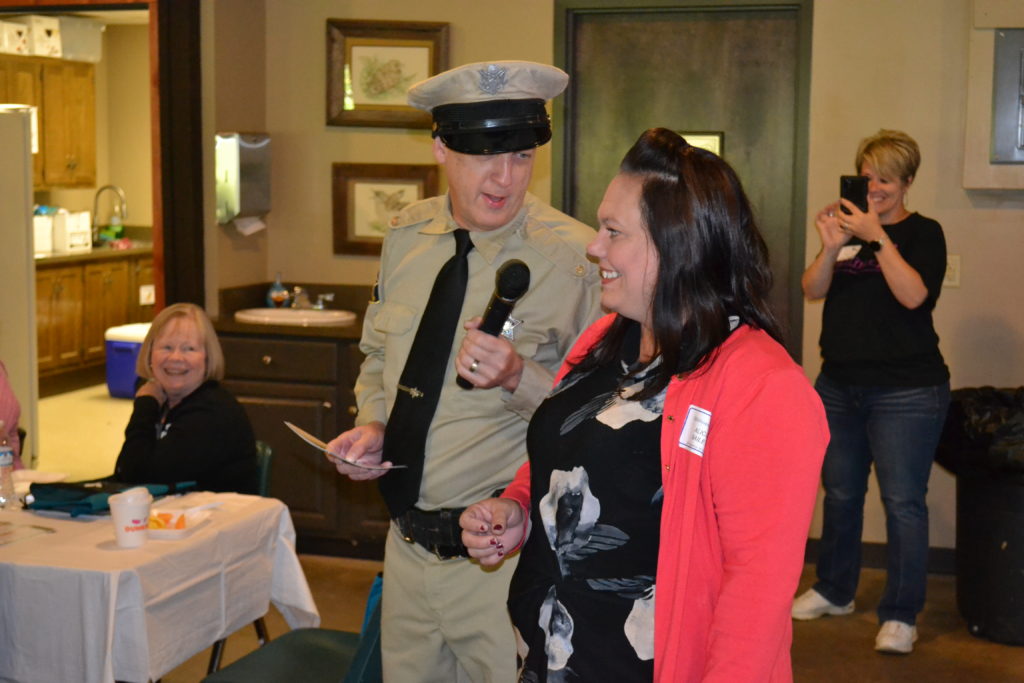 Why This Customer Service Keynote Works …
We all know that laughter tied to a fact or story makes an impact and improves retention of the message. I make a point to make every message as fun as it is informative. The content and program length can absolutely be customized for your group. This program is unlike any other. It's a blend of stand-up, storytelling, performance, and engagement. Truly unique!
My Promise:
As an active member of the National Speakers Association, I approach your event with the professionalism you deserve. With that in mind, the process begins in advance of the event. I will supply to you:
A pre-event questionnaire to fully understand your goals for the event
A pre-event event video for you to use to increase interest and attendance
Pre-event quotes you can post in newsletters and on social media to get folks excited
Photos, bios, introduction, and everything you need for things to run smoothly
Additionally, I am able to customize the show. If you need a certain theme or message relayed to the group – just ask.
Don't take my word on it, watch the video demo on this page (or CLICK HERE) to see a sample and here from a few recent clients. Need more insight? View the client testimonials video on this site's home page.
Take Action:
Give me a call today at 1-888-895-8549. I will help you brainstorm solutions for your event based on your desired budget. You are under no obligation to hire me. And the call is free.
If you are ready to move forward and want to check a date for availability just fill in the contact form below. I'll get back to you ASAP. Let us transform your next meeting or conference with the spirit of Mayberry.