I have a ton of fun performing what I call a "combo show". This is an event where I appear either before the stand-up show or afterwards as Barney Fife. Guests get an extra suprise and event planners get value added treat.
I don't know how Elvis impersonators feel when they show up somewhere decked out in jump suits and lamb chops. But I hope they get half the positive energy I receive when I put on the holster and badge. Everyone (except one guy in Houtson) loves Barney Fife and has great memories of The Andy Griffith Show. I get to hear about favorite episodes, chance meetings with cast members and I occasionally get a glimpse of a collection from an avid fan.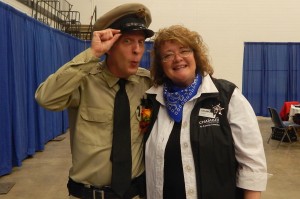 As I roam around I hear the chuckles and excitement. I pose for pictures and write tickets. Yes, most people ask if I have a bullet – and I do! Once I forgot to bring it and I never heard the end of it. "You can't be Fife without a bullet!" I just told them that Obama took it and there's not much I can do about it.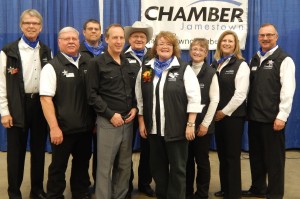 Recently I got to do this combo show in Jamestown, ND. The event was for the Chamber of Commerce and was an appreciation banquet for the farming community. I couldn't help but think of how much we owe to the farmers who are out there in the blistering heat and bitter cold working to provide food for all of us. I grew up helping out on a Tobacco farm. Although it isn't a food source, Tobacco pretty much enabled our country to develop and prosper. It's trade value alone was enough to settle many territories.
So, as you light up a smoke or pour milk over your Wheaties, think of a farmer who gives his all to provide for you. And whenevI'll bring my bullet and jokes to privide a well deserved laugh for these hard working folks.