My job as a Barney Fife Impersonator is just too much fun.  Along with my 100% clean comedy show, I can appear at your event as the famous bumbling deputy from Mayberry.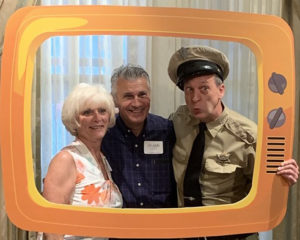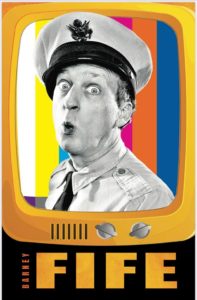 Fife in Frankenmuth
Some clients go above and beyond to create a cool Mayberry vibe. OLV Investment Group created the awesome "Selfie Frame" for folks to get a pic with the deputy. They also sent out invitations using the frame to tie things together.
OLV Investment Group Testimonial:
"Rik Roberts did an exceptional job!! From the time he came in as Barney Fife having pictures made, to mingling with clients, to visiting with people all through dinner, it helped to create a warm evening for our Client Appreciation Dinner! His performance was very engaging and fun! Thank you Rik for two successful evenings honoring our clients!"
If you need a Barney Fife Impersonator for your event, feel free to connect with me by filling out the contact form on this site. Or by sending and email to Rik@RikRoberts.com.
There are a variety of ways to incorporate the deputy into your event. Roaming Fife is a term I use to describe mingling with guests before or after my comedy performance. It's comparable to "table magic" where magicians go from table to table performing a short trick. But with Fife, it's witty conversations and a few trademark  "sniffs" while guests get a picture with the bullet toting deputy.
Other options include bursting into an event and issuing "citations" based on inside information you provide in advance. This is an especially fun way to acknowledge or recognize folks for great work. Whether they are "falsifying documents" by working more hours than they report, or "speeding" out the door Friday afternoon, we can have some fun with Fife!